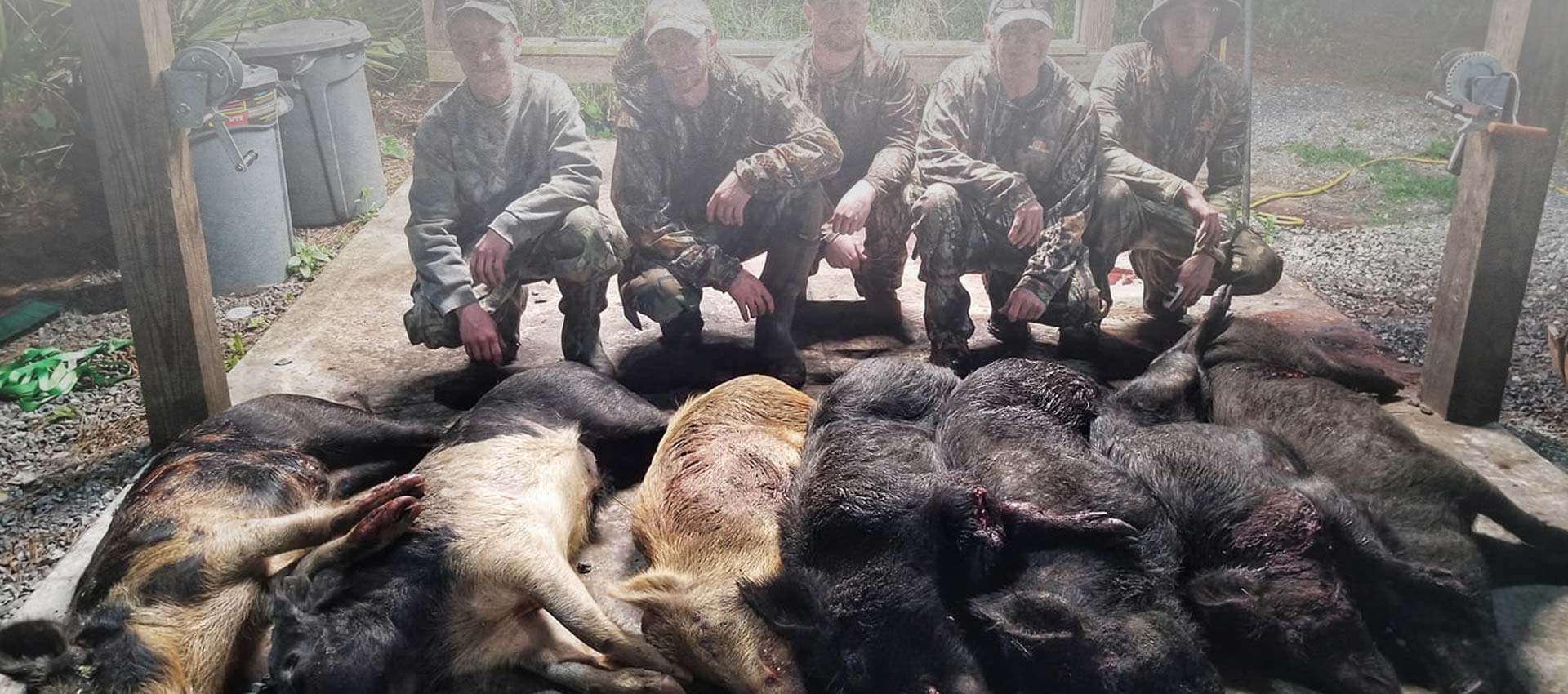 Thermal Wild Hog Hunting in Florida!
Experience the thrill of stalking wild hogs at night undetected in total darkness utilizing the latest thermal imaging equipment available. This is a thrilling and exciting hunt suited for anyone including first time hunters. No experience is necessary to participate in our thermal hog hunts as our knowledgeable guides will take the time to show each and every hunter the proper methods and techniques needed to be successful on this hunt. We have had several children as young as 6 years old participate in our thermal hog hunts with 100% success. Our thermal hog hunts are primarily a mobile spot and stalk style hunt utilizing lifted electric golf carts. This method ensures complete stealth mode and has proven to be the most productive for locating those bigger more mature trophy boars. Clients can also be placed in a box stand over looking an automatic feeder for their hunt if requested. Thermal imaging hog hunting has quickly become one of the most exciting and productive methods of harvesting wild hogs. With a 100% guaranteed opportunity; you can be sure this hunt will provide some lifetime memories.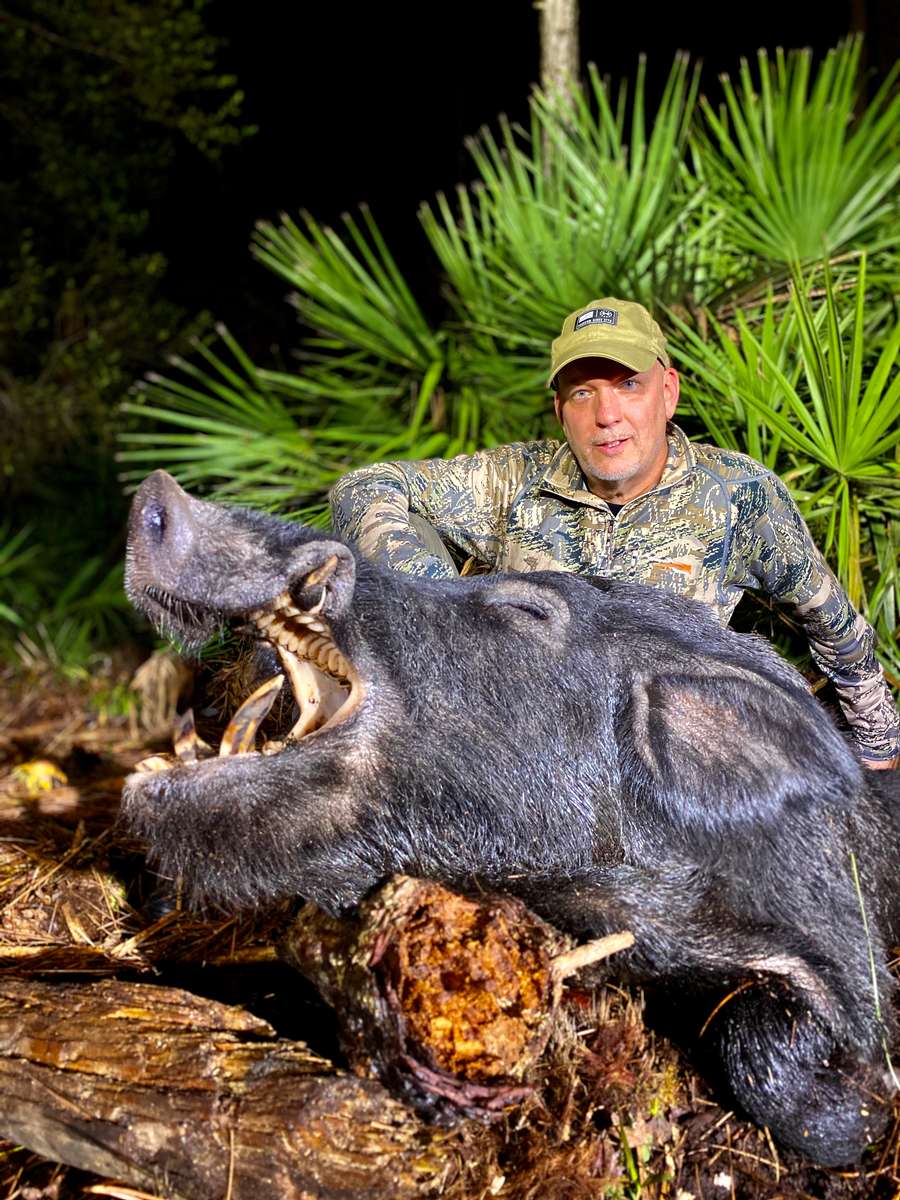 Experience The Best of Florida Hog Hunting with Thermal Imaging
Black Tine Outfitters thermal imaging hog hunts is all inclusive. Weapon, thermal optic and ammunition is provided on this hunt. We do not have a minimum or maximum number of hunters that can participate in this hunt. We have hosted numerous corporate retreats, bachelor parties, birthday parties and even large collegiate gatherings. Be sure to give us a call for special event pricing.

What is Thermal Imaging?
There is probably a pretty good chance that you have already heard about thermal imaging, however you might not be aware of what it actually is. Thermal imaging optics effectively translate heat- that is, thermal energy- into visible light to analyze surroundings. Living things and mechanical equipment generate heat, making them detectable even in total darkness. These optics can be very precise, requiring only a small amount of heat to work effectively. The level of thermal radiation emitted by an object is called its heat signature. The hotter an object is, the greater the signature will be. The thermal imaging optic is capable of distinguishing heat sources and very small differences in thermal signature. It compiles this data into a complete "heat image" distinguished by heat levels. Utilizing this equipment in the hunting industry has been proven to be a valuable asset in feral hog population control. Unlike traditional night vision optics (illustrated above) thermal imaging is much more advanced for detecting animals that can be just off the beating path. Making quick target acquisition more successful.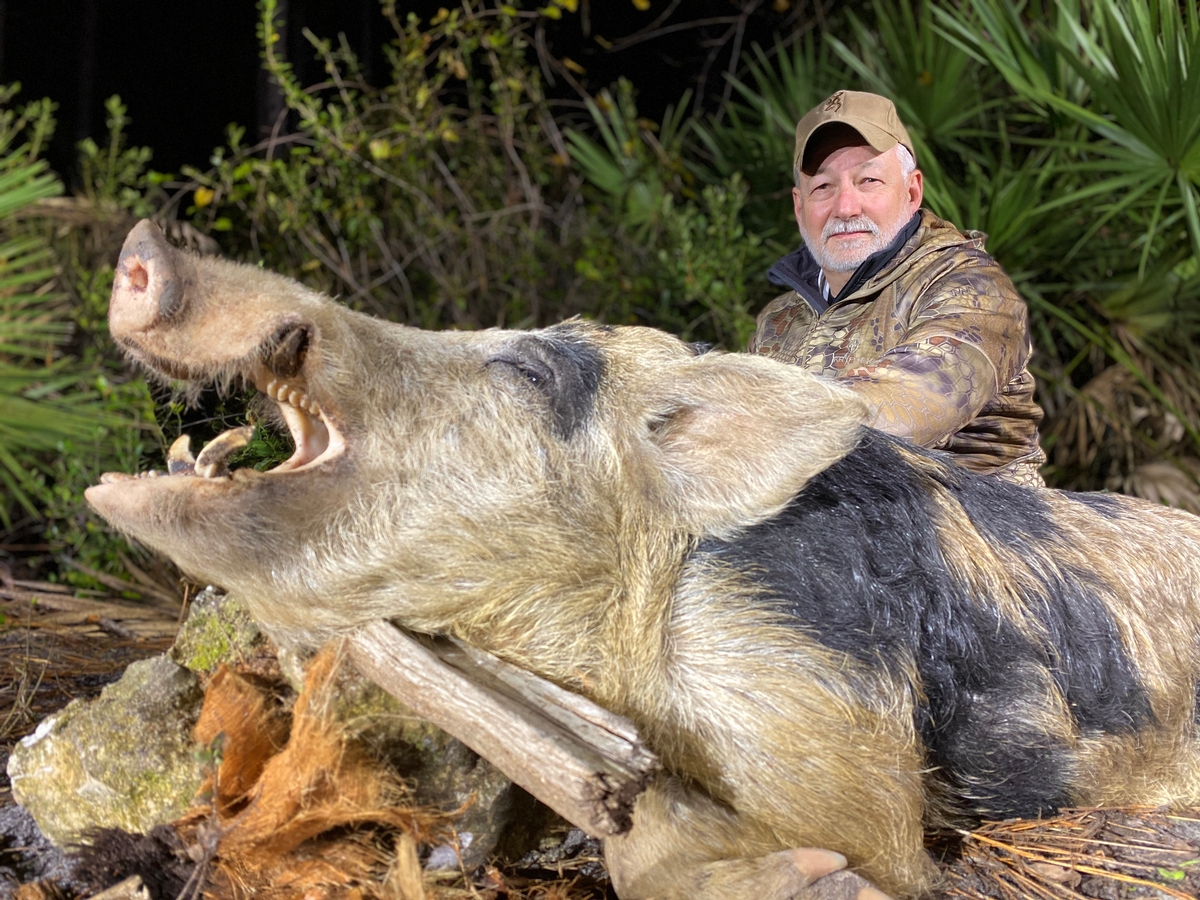 Why do we use Thermal Imaging?
The wild feral hog is naturally a nocturnal animal, especially your older, more mature trophy boar hogs. We solve this issue by utilizing thermal imaging optics. Mounted on an AR-15 chambered in .300 AAC Blackout, this set up is perfect for all ages as well as all levels of experience. Perfect for youngsters and first time hunters. Our thermal hog hunts are also a great way to hunt with out dealing with that humid Florida heat. If you are after that true Florida trophy boar hog, this is certainly a hunt to consider.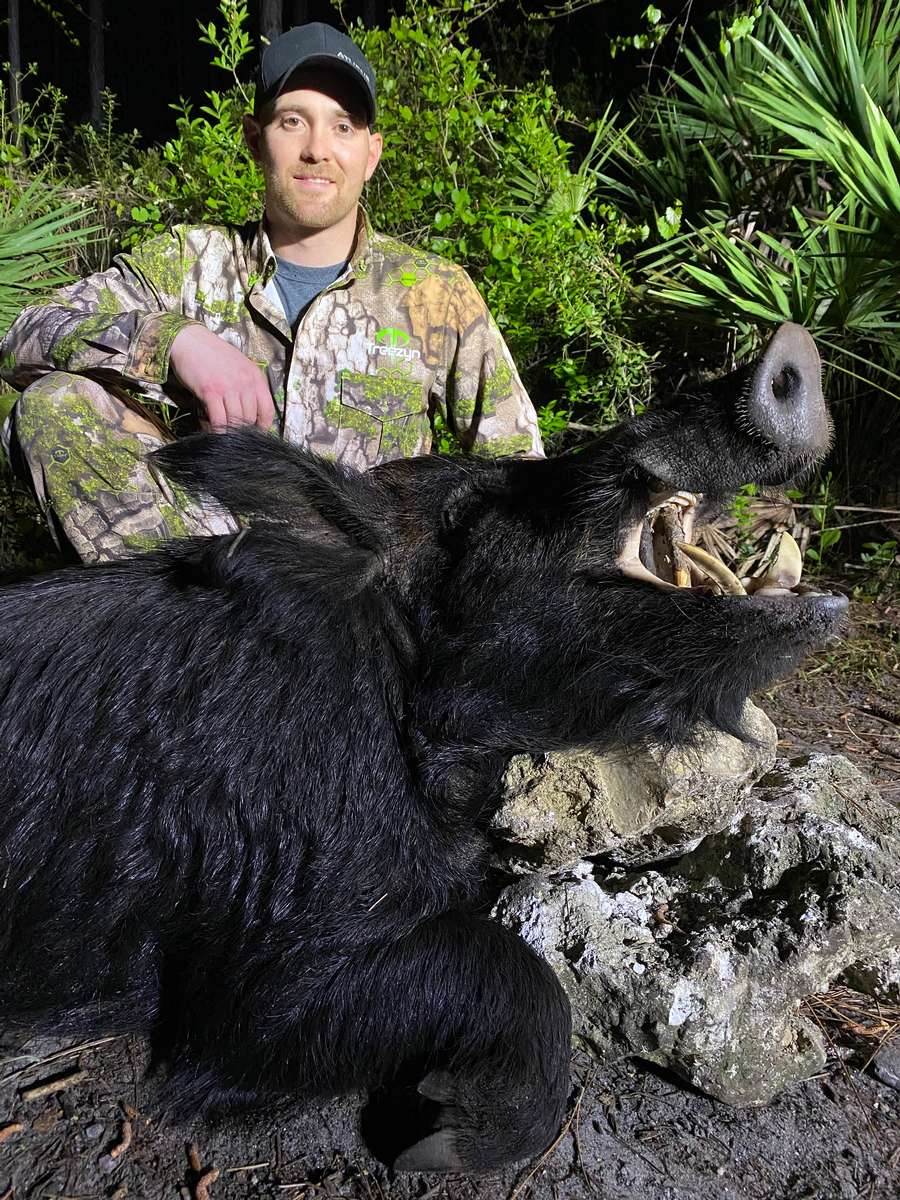 Florida Thermal Imaging Hog Hunt Rates
Thermal Imaging Hog Hunt:
$350 Per Hunter
$50 Per Non Hunter
Additional Hog: $180 Per Hog
No discounts apply to thermal hunts.
Includes:
Guide
Transportation
1 Hog Per Hunter (No Size Restrictions)
Weapon
Thermal Optic
Ammunition
Cleaning And Quartering
A $50 per hunter Non refundable deposit is required to book a hog hunt. Deposits are non transferable. Deposits will go towards balance of hunt.
All wild hog hunts are fully guided and include cleaning and quartering your harvested game. All hog hunting rates are listed as per hunter per hog. Additional hogs can be purchased for an additional discounted rate.
Don't forget to tip your guide!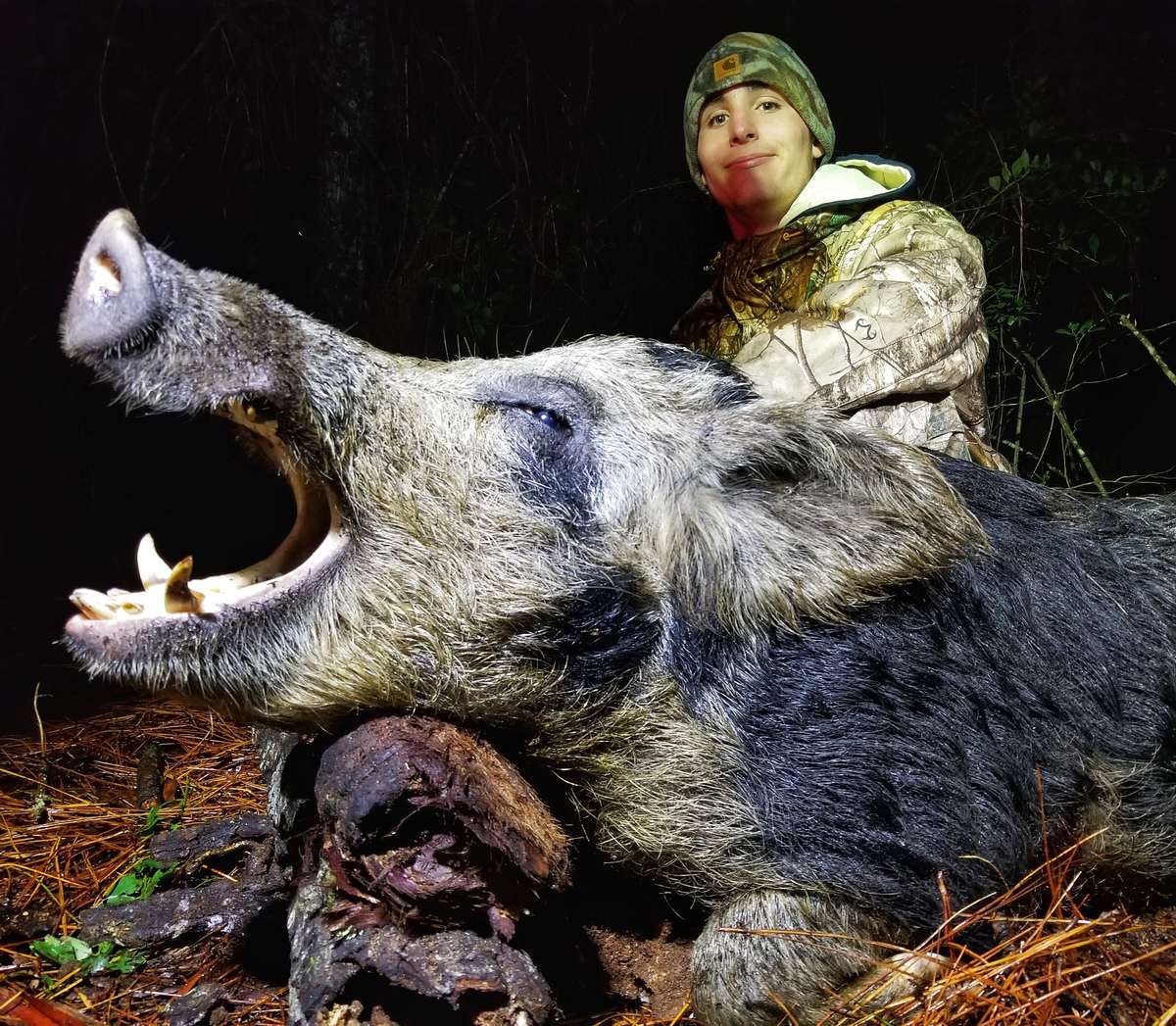 Lodging!
We do not offer lodging at Black Tine Outfitters. Clients are referred through airbnb.com for local lodging options. There is also a KOA located approximately 15 minutes from the ranch. The KOA has cabin rentals available. The closest hotel is going to be the Holiday Inn Express located in Silver Springs. The closest public campground is Gores Landing located approximately 15 minutes south of the ranch.